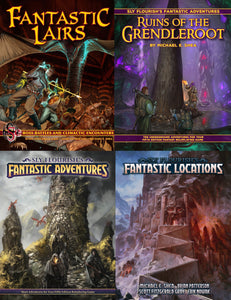 Looking to bring true fantasy to your fantasy roleplaying game? Have we got the deal for you!
20 fantastic locations!
20 easy-to-run adventures with full color maps for 1st to 5th level characters!
23 boss battles and lairs for 1st to 20th level characters.
Get all four Fantastic books for less than the price of three!
Drop them into your campaign or use for one-shot adventures with your friends and family. All four books include sharable digital artwork and three of them include VTT-friendly maps.
This fantastic bundle includes:
Fantastic Adventures

(PDF, ePub, VTT map pack)



Fantastic Adventures: Ruins of the Grendleroot

(PDF, ePub, VTT map pack, art pack, player's pack with pre-gens)



Fantastic Lairs

(PDF, ePub, VTT map pack, monster appendix, campaign seeds)



Fantastic Locations

(PDF, ePub, art pack)



With these books, you can create and run awesome games for years to come.
No shipping required ... buy this digital bundle and start enjoying your new adventures today!